About Mason & Associates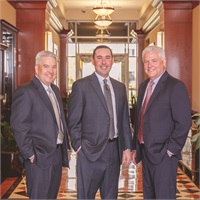 (757) 223-9898
masonassociatesllc@cfiemail.com
Mason & Associates, LLC is an independent financial planning firm located in Newport News, Virginia. With over 50 years of combined experience, Michael and his brother, Kenneth, have built a successful practice, offering comprehensive financial planning to all types of employees, with specialized knowledge of Federal benefits. Our success has created the opportunity to expand our practice to include members of the Armed Forces, Virginia State Employees (Virginia Retirement System - VRS), Huntington Ingalls Industries personnel, and all private sector employees. We know that the cornerstone of a solid financial plan is a complete understanding of a client's employer-sponsored benefits package. With this knowledge, we can help clients complement their benefits with private plans.
Tune in to the Mason & Associates Financial Planning Radio Show to hear more about our financial planning strategies. Michael and John co-host the bimonthly call-in radio show, heard locally on WNIS AM 790. The show airs the first and third Tuesday of every month from 6:00 to 7:00 p.m.
Our Mission
Mason & Associates, LLC is a financial planning firm for State and Federal employees. We are a branch of an independent broker/dealer and are fully licensed, which allows our advisors the full range of financial solutions available in the industry. Understanding the nuances of various State and Federal defined benefit pensions separates our firm from others. You do not have to be a State or Federal employee to enjoy our exceptional planning services, but if you are, you absolutely want Mason & Associates on your team. Family-owned with traditional values and fully staffed with professional, courteous employees, we are a company doing business the way you always wanted a company to do business.
Our Vision
Mason & Associates, LLC will redefine the financial planning industry, client by client. Understanding that no financial plan can exist without thorough knowledge of a client's defined benefit pension, Social Security options, and employer benefits must be the starting point for any financial advice. We will manage growth through referrals and change lives through direct relationships, as well as radio-based education. We will never outgrow our unwavering commitment to personalized solutions and to recruiting team members with unquestionable character. We will build a practice that transcends its founders to continue providing consistent financial planning advice for clients and their families.
Call Us Anytime: (757)223-9898 or Email Us